Pure Norwegian Fish Collagen x3 Months
Regular price

2.449,00 kr

Regular price

2.697,00 kr

Sale price

2.449,00 kr
Pure Fish Collagen from Norway
Revitalize your skin and joints with Pure Norwegian Fish Collagen. Our fresh and pure collagen is sourced from Norway, known for its pristine waters. With regular use, this natural protein helps improve skin firmness and elasticity, reducing signs of aging. It's also proven to support joint movement and mobility.
Ballstad Collagen is for 1 month use and contains 160 grams of Type-1 Norwegian Fish Collagen made from Collagen peptides of hydrolyzed Cod skin, and contain large amount of pure aminoacids such as 30% Glysin.
Ballstad Collagen is 100% pure fresh fish collagen; and has no additives such as sugar or color. And is a neutral collagen powder that is added to any food or drink. The collagen powder has a documented effect on increasing the moisture in the skin by 34.8%*.

Clinical studies
A separate clinical dermatological study has been carried out at Dermatest Germany, 2017.

The study showed that the cod collagen was well tolerated by the 20 women aged 40-55 who participated in the study. The study showed a significant increase in skin moisture on the face after 8 weeks of consumption.
Usage

You can consume 5 grams of powdered collagen every day by mixing it with 1 glass of liquid of your choice. You can mix it with water, coffee or juice. You can take it at any time of the day. A pack of Ballstad Collagen is 160 grams.
Share with your friends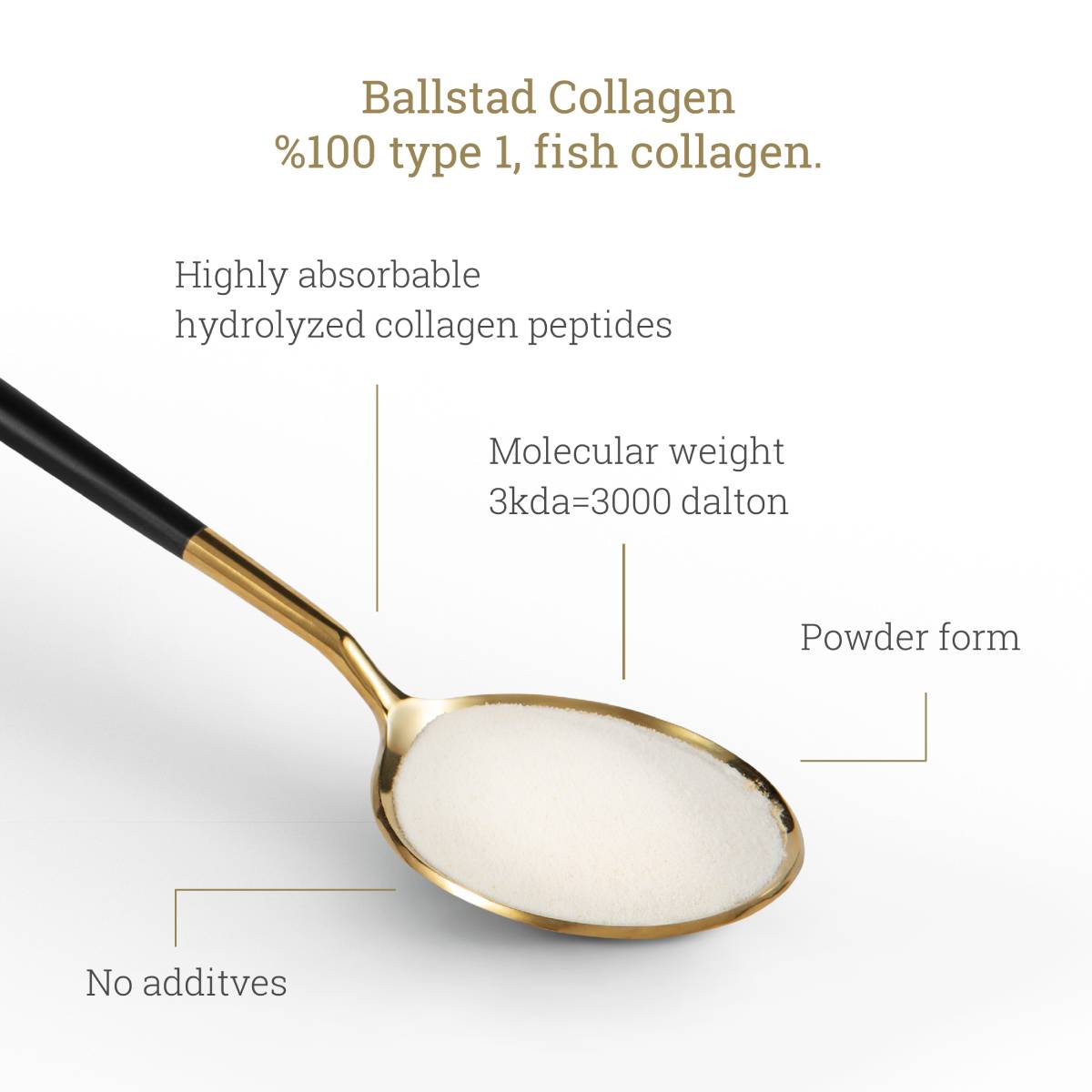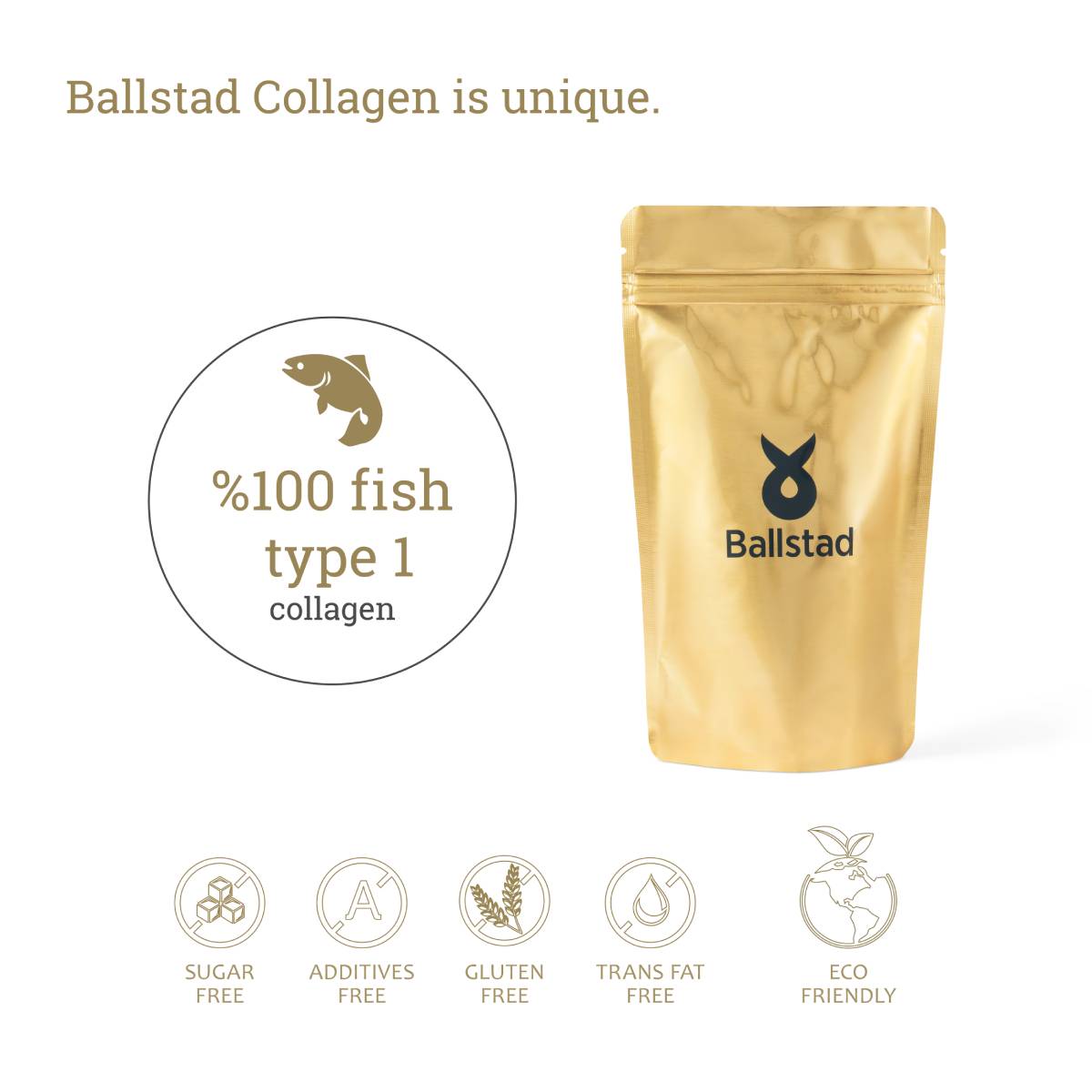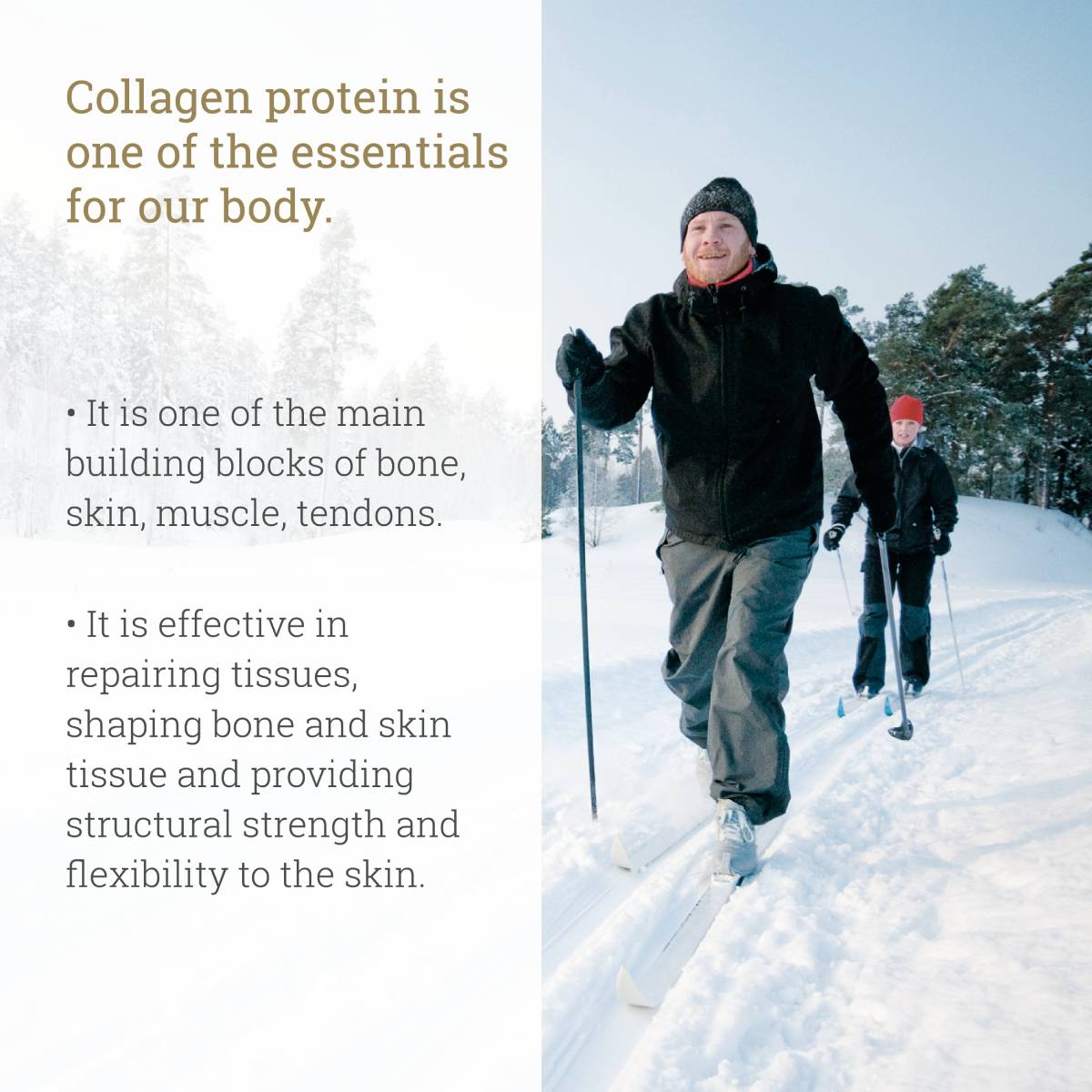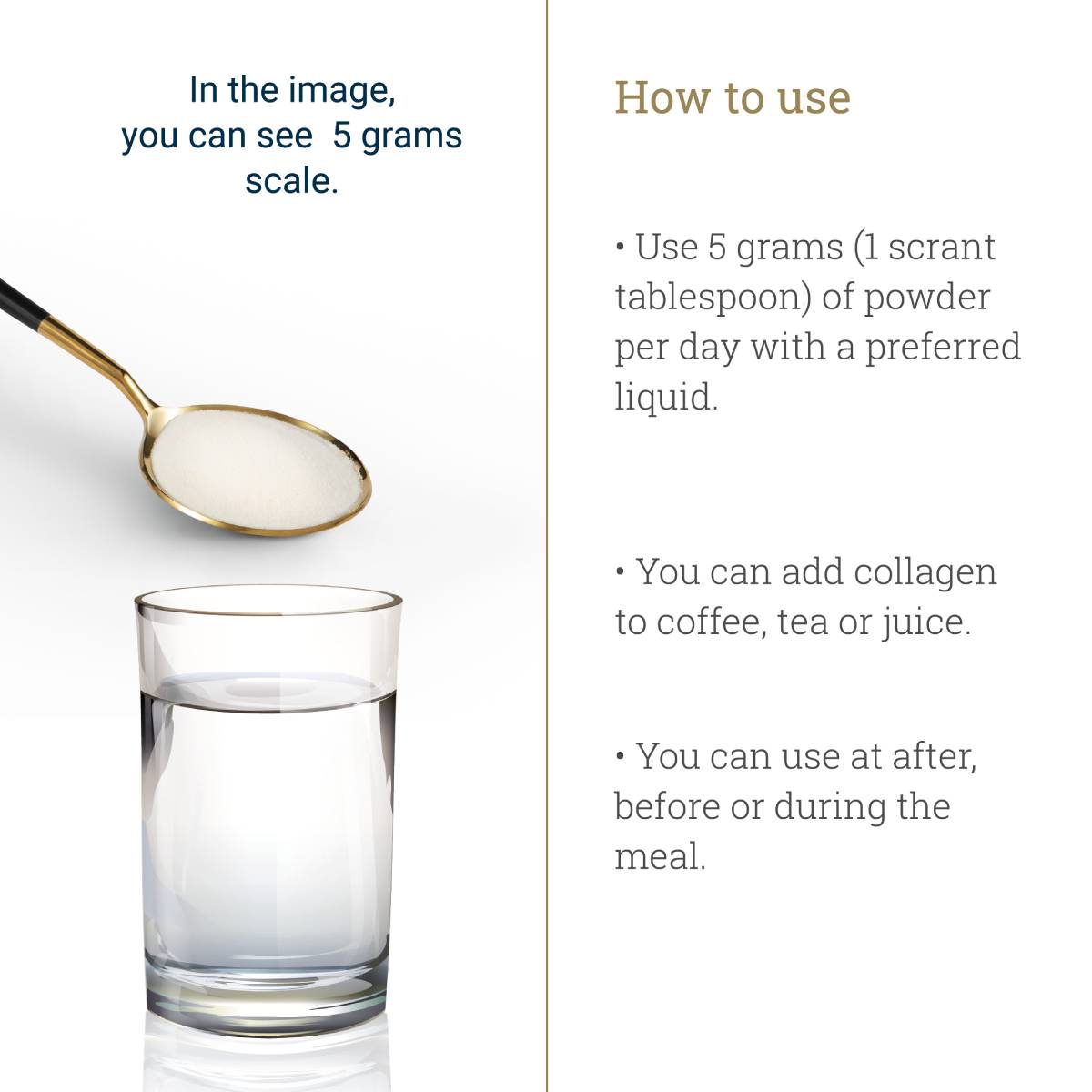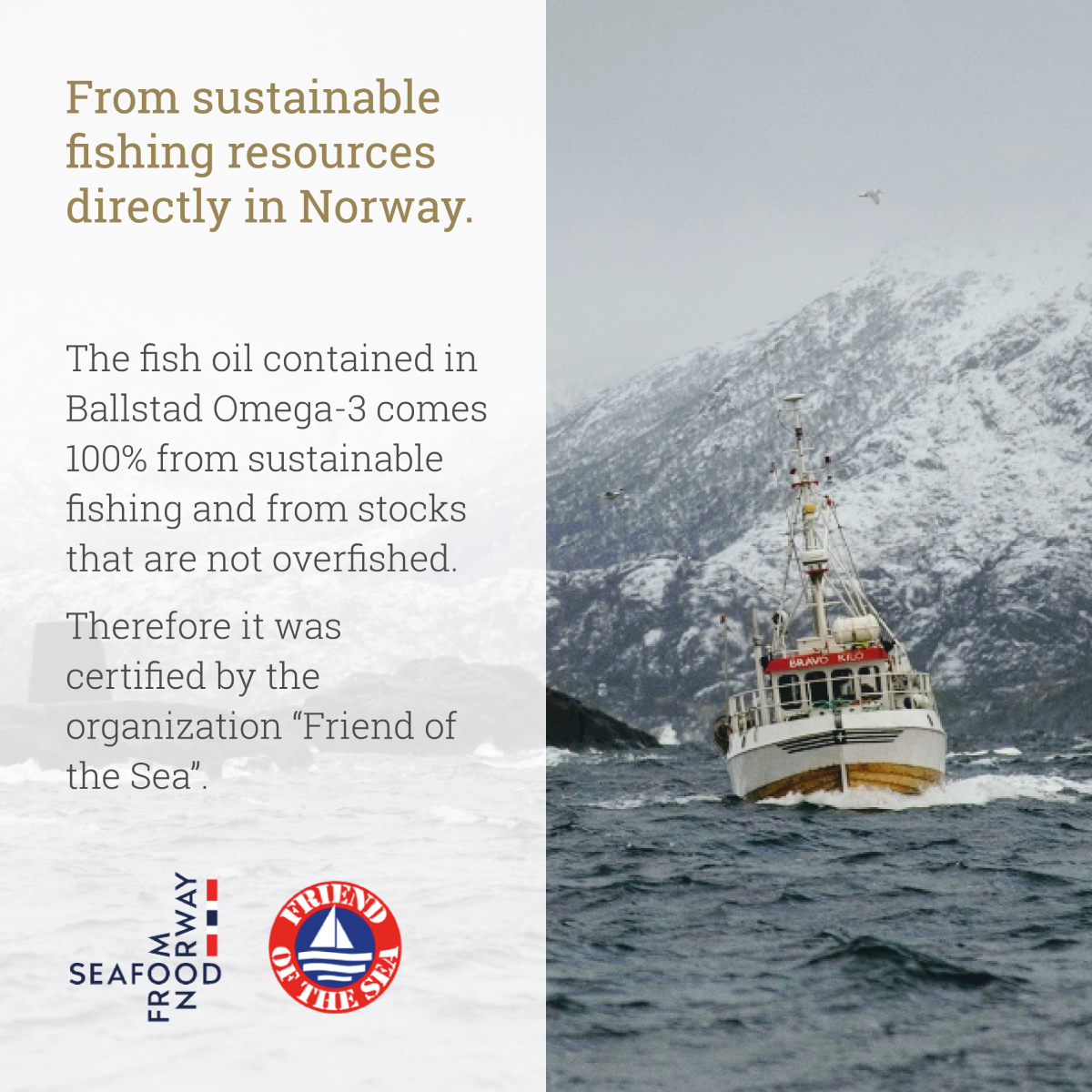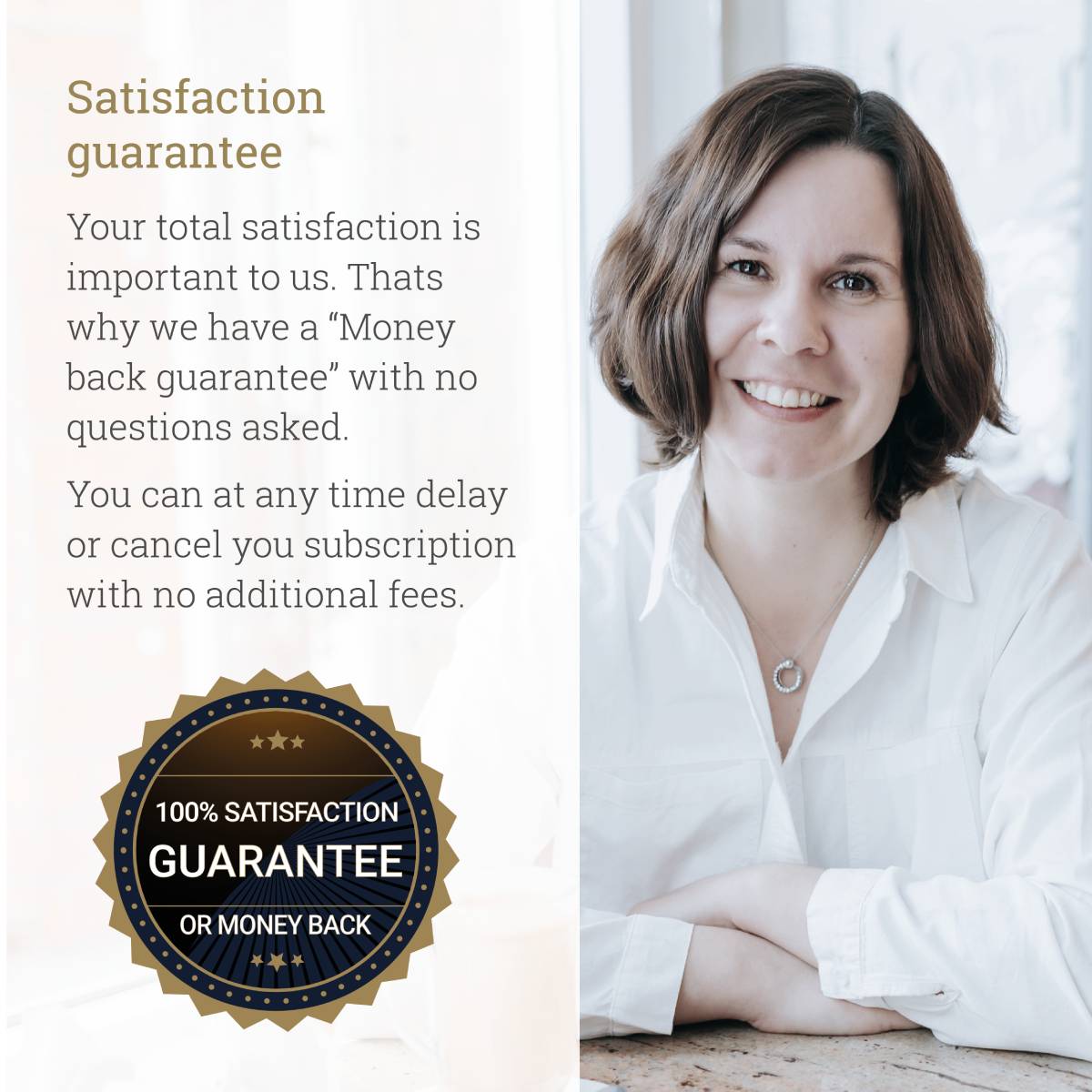 What is Collagen?

Collagen is the most abundant protein in the body. Its fiber-like structure is the main component of the body's connective tissue. Connective tissue is an important cornerstone of bone, skin, muscles, tendons and cartilage, but also connects other tissues. Starting from the mid-20s, the body's natural collagen production decreases.

Pure Fish Collagen From Norway

Ballstad Collagen is derived from the skin of Morhua (Gadus Morhua), which is sourced from the clear, cold waters of the North Atlantic Ocean. 100% processed, produced and packaged in Norway.

Good and Fast Dissolving Powder Form

The product is hydrolyzed and enzymatically treated, then spray dried and granulated. Thus, it dissolves and mixes easily in both cold and hot liquids.

Easy Absorption

Ballstad Fish Collagen is hydrolyzed into small collagen peptides for easier absorption in the body. Its absorption is high due to its molecular weight of 3kda=3000 daltons.
About Ballstad with Odd Roar Olsen
We had a conversation with Odd Roar Olsen, the founder of Ballstad, and talked about Ballstad. You can leave your questions and curiosities in the comments. Odd Roar Olsen was born and raised in a small fishing village called Ballstad in the northern part of Norway. This village is situated on a small island, included in the Lofoten archipelago, just 200 km north of the Arctic Circle. With a population of approximately 1000 people, the village has relied on fishing as its main way of life for thousands of years, providing its income from here.

Growing up in such a place, where everything can only be attained through effort, Odd Roar Olsen learned that one must work hard and deserve what they achieve. This upbringing laid the foundation of his belief that perseverance and determination lead to good results in life.
Read More
What does our costumers think








Now I have the rhythm of life I want

I have been using Ballstad for about 2 years. My dietitian suggested that I use omega-3 and as a result of my research I decided to use Ballstad. The product has no smell at all. It does not leave a bad taste in the mouth, and although I am a person who has frequent digestive problems, I have never had any problems. Even in the morning, I wake up tired from bed, now I have the rhythm of life I want. I would recommend it to everyone.

Sinem
The fact that it is available in small capsules was important for me.

As a 64-year-old woman with an active business life; After determining that Ballstad has high values based on my detailed research, I shifted my choice of omega-3 supplements, which I have been using for many years, to Ballstad.

The fact that it is offered in small capsules also brings ease of swallowing, while the fact that the product is presented to the consumer in an elegant package considering many fine details also increases the confidence in the product. I would like to state that I have recommended it to many of my friends and that they are also pleased with their decision to use it.

Sema (64)
Looking forward to positive changes

I just started using Ballstad omega 3 fish oil, I feel like a Norwegian at the level I want in terms of fitness. I plan to use it for a long time, I look forward to positive changes, thank you Ballstad family.

Ozan (27)
It really met all my expectations.

As I work as a freelancer, the work I have to deliver mostly hangs over night hours. I had a lot of trouble with long-term focus and sleep. Taking this supplement that my body needed really met all my expectations. I would recommend it to everyone.

Uras (26)
Ballstad had what I was looking for most in a product: quality and reliability!

I work at TRT. Besides publishing, which is a stressful and demanding job, I also continue to pursue an academic career. Ballstad is a product I have been using since 2019. Before I discovered Ballstad, I tried dozens of brands and herbalists by looking at their EPA and DHA ratios. When I started using Ballstad, I realized that none of them actually worked for me. Then I decided to buy it for my whole family because Ballstad had what I was looking for most in a product: quality and trust! Due to travels, I changed addresses very often and of course, there were times that the products were delayed to reach me and went to different addresses. Ballstad officials solved these problems without tiring me. Ballstad was the best company I have ever seen in terms of customer relations. Their products are very high quality, their customer service is in favor of solving the problem rather than magnifying it, they contact us immediately when a new product arrives or when there is a discount. When I think of Ballstad, Bosch's motto "I'd rather lose money than trust" comes to mind. Thank you.

Bahadır
We have never stopped using Ballstad before and during the pandemic.

We started using Ballstad together with our elders and children in 2019. We are a family that does sports throughout the year and is busy during the day. We sometimes miss our meals at this pace, but we never stopped using Ballstad before and during the pandemic. During this difficult period, we used Ballstad without fail and it met our expectations. Thank you Ballstad.

Hasan (34)
I could not find any other product that was better then Ballstad.

When I faced health problems as well as a busy working life, I created a sports and yoga routine that I have been continuing for a long time. I turned to supplements to achieve the quality of life I wanted. I have tried various brands of omega-3 products. I have been using Ballstad for 2 years. When I evaluated it in terms of product quality, place of production and the effects I expected on my body, I could not find any other product that surpassed the Ballstad brand. It is a product and service that I am absolutely satisfied with and will continue to use, when I think of the support of customer service when I have problems with packaging, service and shipping companies.

Halime (32)
Ballstad offers me real Norwegian quality.

I have been using Ballstad regularly for 3 years. Besides having a busy work life, I don't get as much support about my daily routine as I do in the metropolitan life because I live in a small town. That's why I have a very active tempo. I have to conserve my energy for this. Ballstad offers us real Norwegian quality. In addition, factors such as the odorless and tasteless capsules are very important to me. Since the capsules are small, I can easily swallow them. Now I can say that I got the life I wanted. Thank you Ballstad.

Melis (35)